Inspiring people to see Jesus in their every day lives through the Fruits of His Spirit
New Products!
Check out our products page for brand new wrapping paper straight from the pages of SEEING Christmas! SO FUN!
View
How do you SEE Christmas?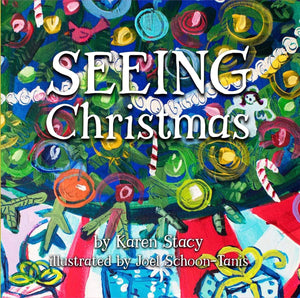 SEEING Christmas - picture book by Karen Stacy illustrated by Joel-Schoon Tanis
Sale price Price $20.00 Regular price
Seeing Christmas is a book every household should own! My kids and I read it the moment it arrived and it is a new favorite to read every year to remind us of the real reason for the season. I love the fresh perspective on Jesus being everywhere at Christmas, we just need to open our eyes to see him.
Karen just changed my attitude to the upcoming Christmas season!!! LOVE her book!!! What a sweet way to "see" the busyness, shopping, cooking, etc...
This book is a beautiful poem about seeing who Jesus really is in the midst of all this chaos that is the holiday season. It felt like a breath of fresh air.
My favorite Christmas book this year. So focused on Jesus.
For anyone who thinks that Christmas has become too commercialized, that the day is just about presents, and the true meaning is lost, you need to read this book. Seeing Christmas shows you that from decorating the tree, to the food, to even the gifts; it's all about Jesus and how He's in it all. This book does a fabulous job of tying everything into the Christian faith. Seeing Christmas is a MUST HAVE!
About the Author
Hi! I'm Karen! I'm a wife, mother, and grandmother that has been walking with Jesus for over 40 years now. I seek and find Him in every detail of life and love to share my vision with others. I'm obsessed with birds, rainbows, anything tiny, and all things home, and also can't live without my morning run or my afternoon Starbucks. (I see Jesus in all of these things, by the way!) My husband Mark and I live in Grand Rapids, Michigan, where my greatest joy is time spent at home with our kids and grandkids...especially at Christmas!  
About the Illustrator
This is my long time friend and illustrator of SEEING Christms Joel-Schoon Tanis. He is a husband, father, and an artist who likes to express his love for God and God's creation in his work. He approaches art with the eyes of a child--full of color, expression and whimsy. He's created art all over the United States and in farther away places like Kenya, Zambia, and Europe. He's also painted murals and other paintings in Behtlehem...as in O Little Town of! He lives in Holland, Michigan, with his wife, Kathy and daughters Harper and Beatrix. You can see more of Joel's work on his website HERE or follow him on his Instagram account at
@joel.schoon.tanis.art
Author Interviews
Printable Coloring Pages
Some fun Fruit of the Spirit coloring pages for you to print. Great for teaching your kids about the Fruits of the Spirit, or doing meditative coloring yourself. EnJOY!
Click Here
SEEING Christmas Printable Coloring Pages
These adorable coloring pages come straight out of Karen's book, SEEING Christmas. Your kids will love being able to color pictures from its pages, reminding them that Jesus is in ALL things Christmas, through the Fruits of His Spirit!
Click Here
Fruit of the Family Activity Kit
We LOVE this resource created by Heart Writers...we think you will LOVE it too!
Click here