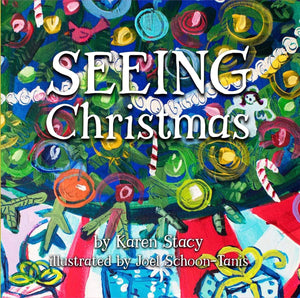 SEEING Christmas - picture book by Karen Stacy illustrated by Joel-Schoon Tanis
Sale price Price $20.00 Regular price
In SEEING Christmas, picture book by Karen Stacy, illustrated by Joel-Schoon Tanis, come take a look at Christmas through a different set of eyes. Come see the season in a whole new light. Be inspired by noticing Jesus in places you may not have seen him before, hiding in every detail of this most wonderful time of the year! Sometimes a new perspective can change everything...
"I wrote SEEING Christmas at a time when it seemed like everyone was saying Christmas was too materialistic, and I just didn't see it that way...I could see Jesus in ALL of it...from the tree to the lights to the gifts and more, I could see Jesus and His Spirit everywhere. With no intention of writing a book, I wrote a poem for my family to be read on Christmas morning in the hopes that they would come to see Christmas the way I do. I read the poem to them, Christmas morning of 2017, and not only did they love my perspective, they convinced me to make it a book. Bringing SEEING Christmas to life has been a true labor of LOVE. I hope this perspective is a blessing to you, and enriches your family's Christmas for many years to come!"--Karen Stacy author of SEEING Christmas
SEEING Christmas is a 36 page, 10"X10" hardcover inspirational picture book for young and old alike, with a soft touch cover and dust jacket. It's unique perspective will take the stress out of your Christmas experience, and replace it with all of the meaning it is meant to have. SEEING Christmas is sure to become a favorite! Read it every year as you prepare to celebrate Christ's birth, and learn to SEE Christmas a whole new way.    
Make sure to check out our magnets and stickers for the perfect stocking stuffers or sweet gesture to a loved one!