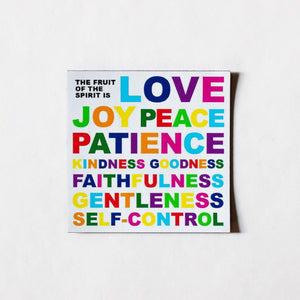 Fruit of the Spirit Magnet--SHIPS FREE!!
Sale price Price $4.00 Regular price
Looking for a great little reminder of Biblical values to send to your college student? Or a little something for your Sunday School class to help them memorize Galatians 5:22? Or maybe a meaningful and Biblical stocking or Easter basket stuffer? Our Fruit of the Spirit magnets are a perfect solution!
"I created our Fruit of the Spirit magnet from the graphic I use on my Instagram account...I love its bright colors so much...and since I love tiny things, I made them on the small side...so cute! Looking at it brings me so much JOY and I hope it does for you too! I use them on my refrigerator and my magnetic chalkboard...every time I see them I am reminded to walk in the Fruits of the Spirit. I hope they inspire you and your family to do so as well." --Karen Stacy
Fruit of the Spirit magnets are a 2"X2" square and so bright and colorful...sure to inspire you to see, experience, and practice the Fruits of the Spirit daily, and remind your kids to as well! SHIPS FREE!
I also have bright and fun Fruit of the Spirit stickers! Check them out here!